The cost of ketamine treatment
The cost of ketamine treatment for depression, anxiety, PTSD, and other mental health problems varies. Some clinics are charging up to $1,000 per single treatment.
At Ketamine SLC it is our mission to be able to help our patients get the treatment they need.
Initial Consultation: Free
Single Treatment: $300
Six Treatment Regimen: $1,800 
Our clinic is paving the way in the treatment of anxiety for Utah residents. Our staff is fully committed to helping each of our patients find relief and live their best lives. Our ketamine treatment has shown incredible results when other treatments have failed. We would like to invite you to learn more about the benefits of this treatment and discover if this therapy is right for you.
Why do you charge what you do?
Ketamine SLC has a revolutionary approach to ketamine treatment with outstanding results. While most clinics focus on making more profit, we strive to help as many patients as possible.
Ketamine therapy is an amazing solution for veterans suffering from PTSD, Depression, Anxiety or OCD.
We honor and appreciate the service of our veterans and want to be able to help as many vets as possible. Call us to ask about how we're helping Veterans through our partnership with ketaminefund.org 
This place is so great. I love Dr. Hiemstra and the staff. One of a kind, this place has really helped my family with depression and suicidal thoughts.
I had my first treatment Saturday and ended up feeling so wiped out I slept like a baby and woke up to for the first time in as long as I can remember not feeling anxiety and depressed thought. I literally sobbed tears of joy to feel relief and happiness once again. That was just the first treatment I'm looking forward to finishing it all. There's been no medications or anything of that nature to actually work for me until this. I had about given up and decided I just had to deal with living a life not worth living. I can honestly say this saved my life.
I want to say that Dr. H knows what he is doing. This clinic has saved my life. I received a full 6 treatments at another clinic all IV and they didn't work half as well as the IM treatments I receive now. I was completely dead set against IM injections but after receiving them I would not get Ketamine any other way. I feel the staff at this clinic is highly knowledgeable and treat you as a person. They don't treat you as a dollar figure. The clinic charges only $300.00 for a treatment and it's worth every penny. If you are suffering from depression or anxiety as I do. Please get help at this clinic. I am so happy I did. They treat other ailments look at this site. I give them 5 stars and they deserve it.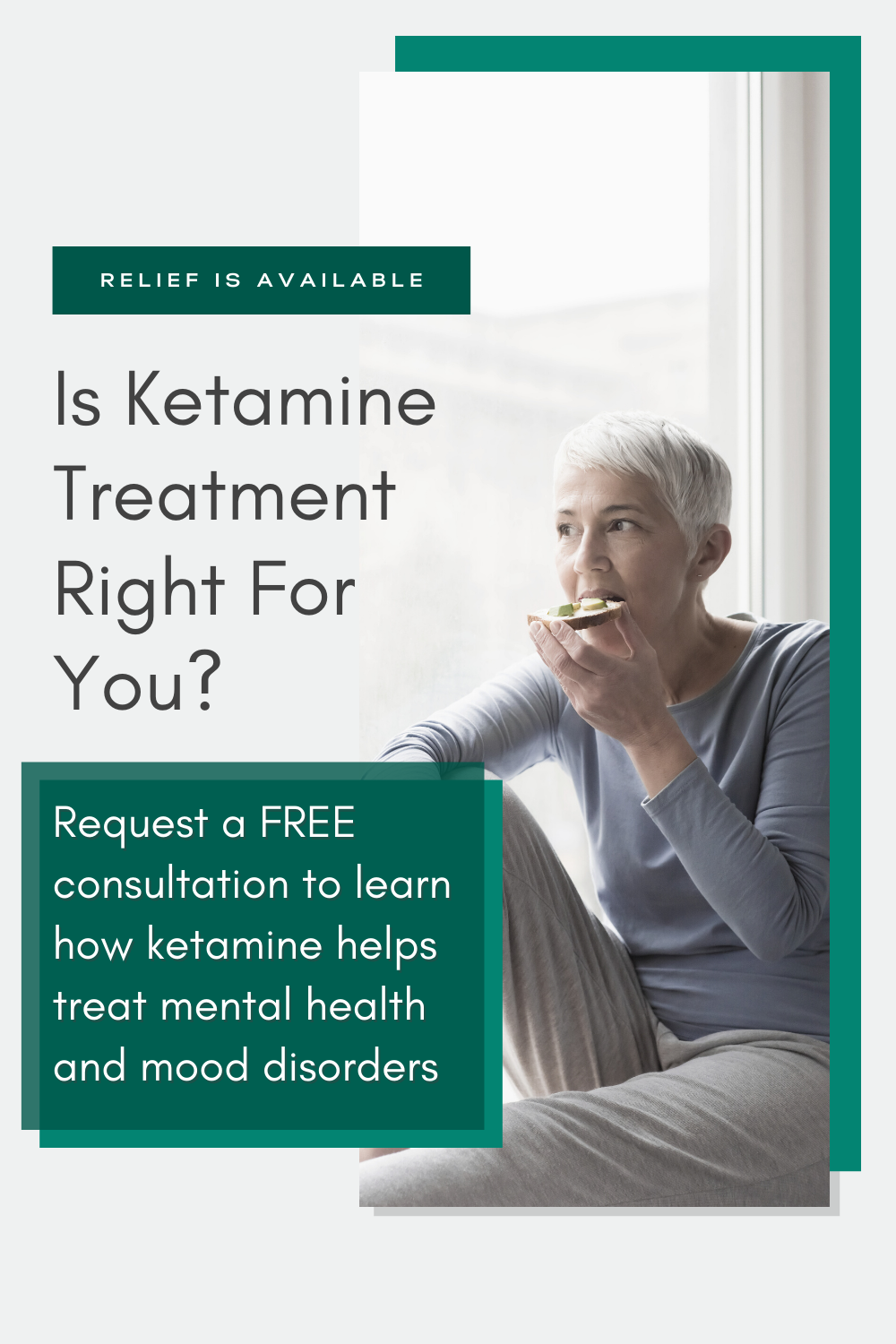 Real Patient Testimonials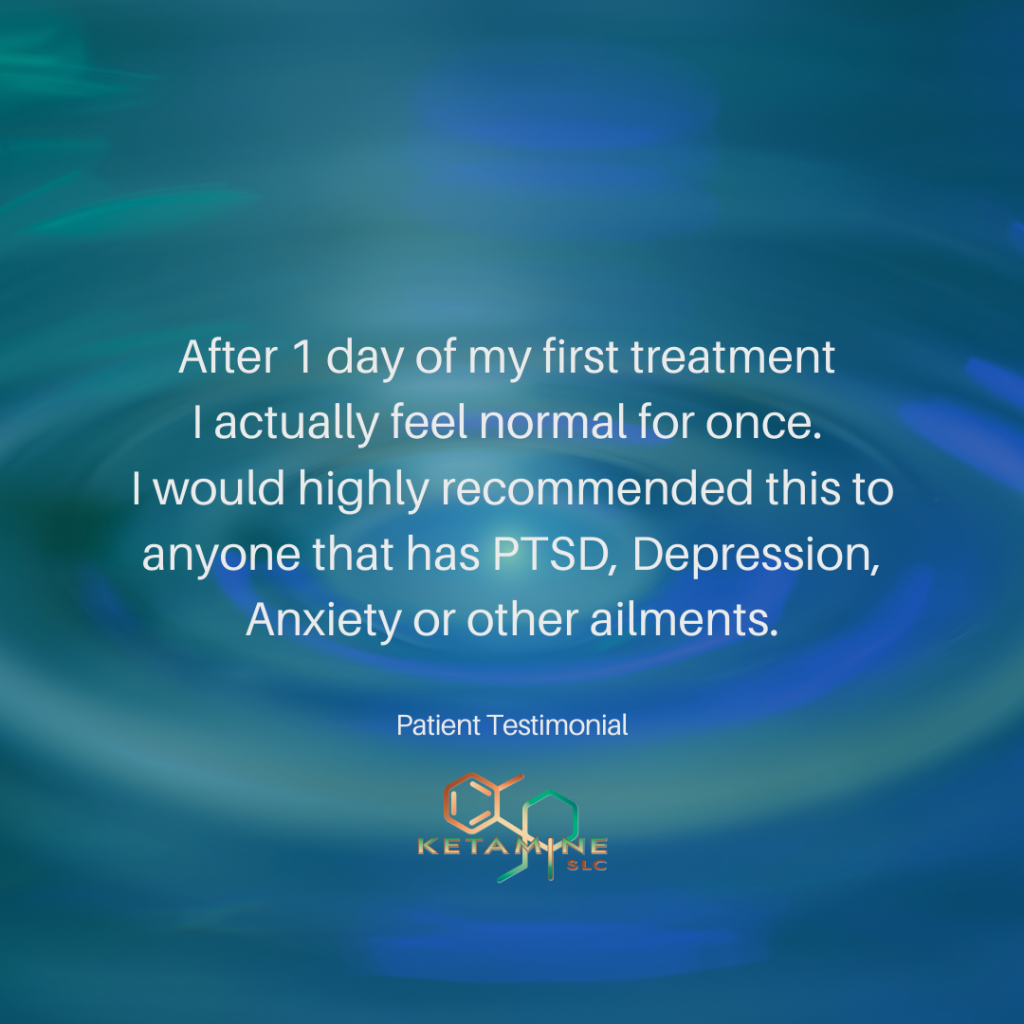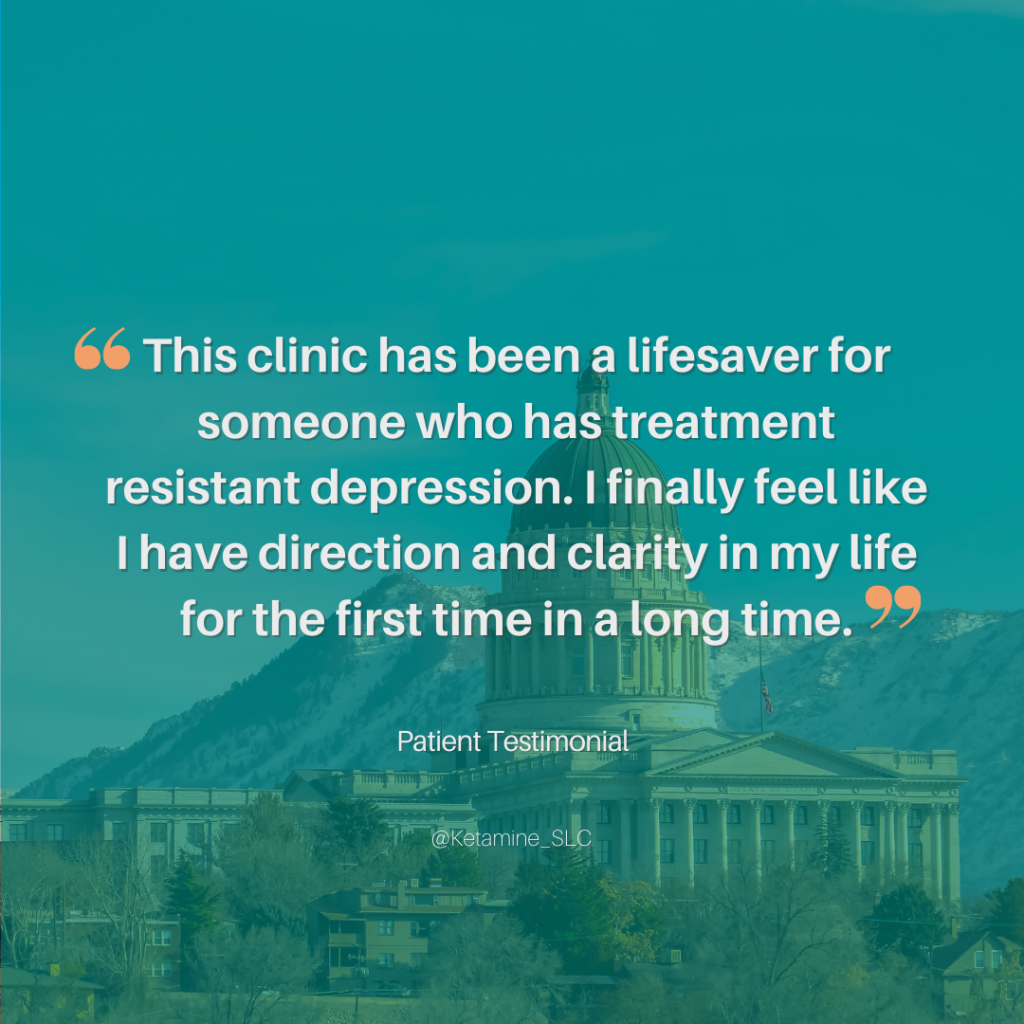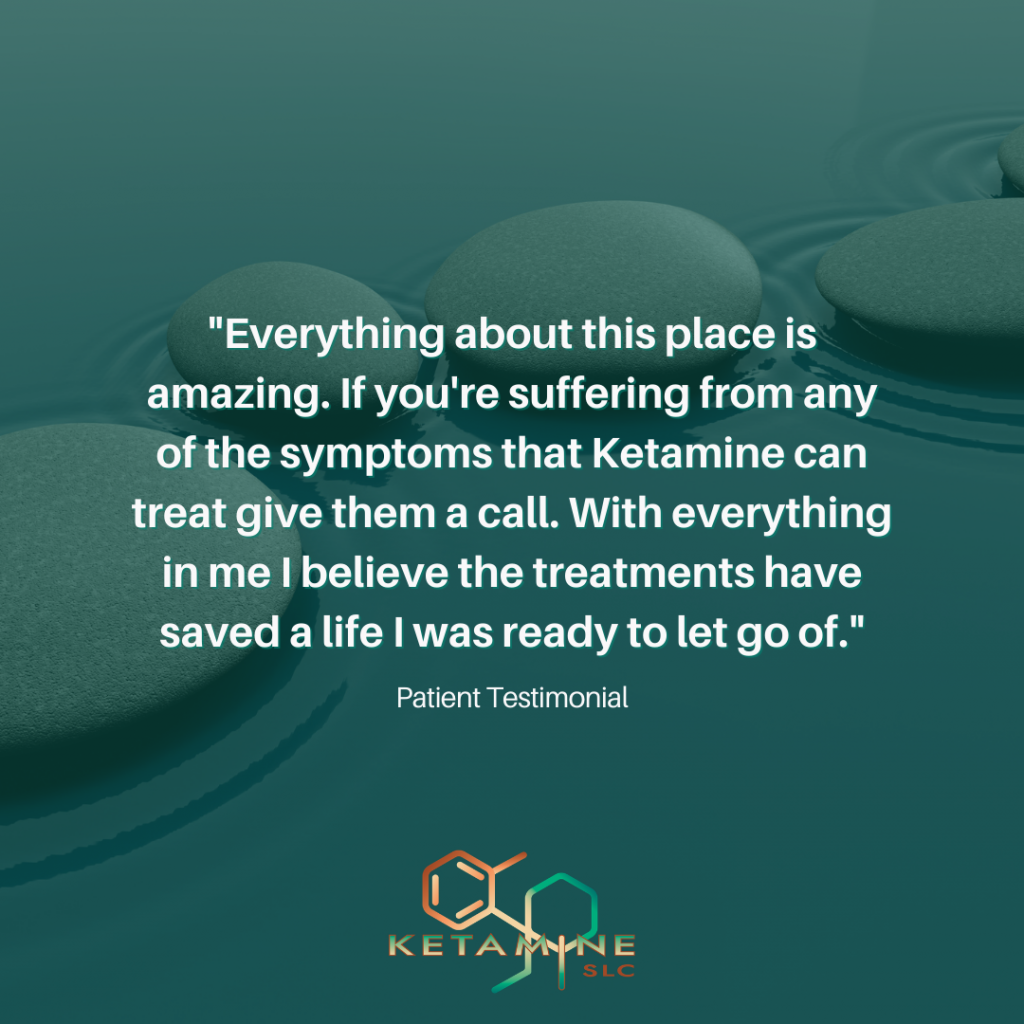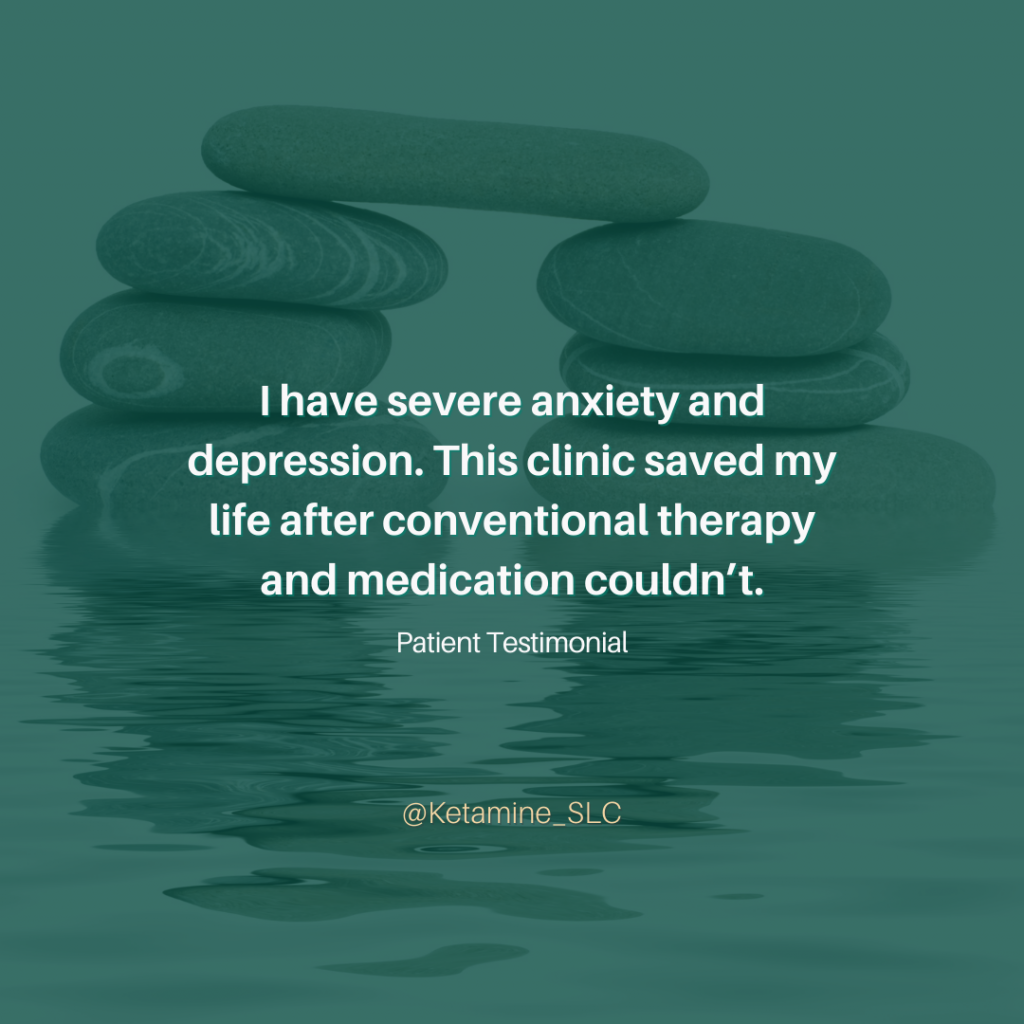 Is Ketamine Therapy Right For You?
Are you suffering from a treatment-resistant condition?
Do your existing medications not work so well anymore?
Get all your questions answered and find out if
ketamine is the solution you've been looking for.
Ketamine SLC
5089 S 900 E, Suite 200
Salt Lake City, UT 84117
| | |
| --- | --- |
| Monday | 8:00 am – 5:30 pm |
| Tuesday | 8:00 am – 5:30 pm |
| Wednesday | 8:00 am – 5:30 pm |
| Thursday | 8:00 am – 5:30 pm |
| Friday | 8:00 am – 5:30 pm |
| Saturday | 8:00 am – 5:30 pm |
| Sunday | Closed |
Monday
Tuesday
Wednesday
Thursday
Friday
Saturday
Sunday
8:00 AM – 5:30 PM
8:00 AM – 5:30 PM
8:00 AM – 5:30 PM
8:00 AM – 5:30 PM
8:00 AM – 5:30 PM
8:00 AM – 5:30 PM
Closed