Best PTSD Treatment In Salt Lake City
PTSD is a common mental health condition that affects more than just veterans. Overall, PTSD affects around 3.5% of the U.S. population, approximately 8 million Americans, in a given year.
While most often associated with experiencing wartime trauma, post-traumatic stress disorder (PTSD) may occur following exposure to any traumatic event. PTSD can develop in response to natural disasters, accidents or violent experiences. PTSD facts indicate that a majority of adults experience at least one traumatic event during their life which could potentially lead to PTSD.
Ketamine SLC offers safe and carefully monitored ketamine therapy as a PTSD treatment option. Call Ketamine SLC or schedule a consultation to learn how ketamine can relieve your PTSD symptoms. 
How Does Ketamine Treat PTSD?
The standard procedure in treating PTSD has been to combat this disorder with medication and counseling. Both of which have benefits, but the success rate in PTSD patients has been relatively low.
A major downfall of the medication and counseling method is the duration of time before positive effects are felt. However, with Ketamine therapy, patients often feel relief during their very first session and have long-lasting positive effects.
PTSD is very similar to anxiety in the brain but it will have a particular memory. If you can identify the source it is PTSD.
Anxiety and PTSD have a huge involvement with the amygdala. This is the brains organ of anxiety and acute stress. It's final pathway is the lateral habenula and this is signaled by a burst mode. These transmitters include dopamine and serotonin. Only ketamine is known to reverse this burst mode and provide the dendritic repair that is essential for long term control.
More Information About PTSD
PTSD can occur in all people, of any ethnicity, nationality or culture, and at any age. PTSD affects approximately 3.5% of U.S. adults every year, and an estimated one in 11 people will be diagnosed with PTSD in their lifetime. Women are twice as likely as men to have PTSD.
From veterans and first responders to abuse survivors, those that have suffered from any type of extreme trauma are at risk of PTSD. Sufferers commonly experience symptoms of fear, anxiety, and emotional detachment.
Traditional PTSD treatment options have included a combination of psychotherapy and antidepressant/anxiety type medications. However, in recent years ketamine has proven to be a more effective treatment.
PTSD symptoms can dissipate within hours after a ketamine treatment, and the long lasting benefits can be attained in as little as one to two weeks.
Frequently Asked Questions About PTSD and Ketamine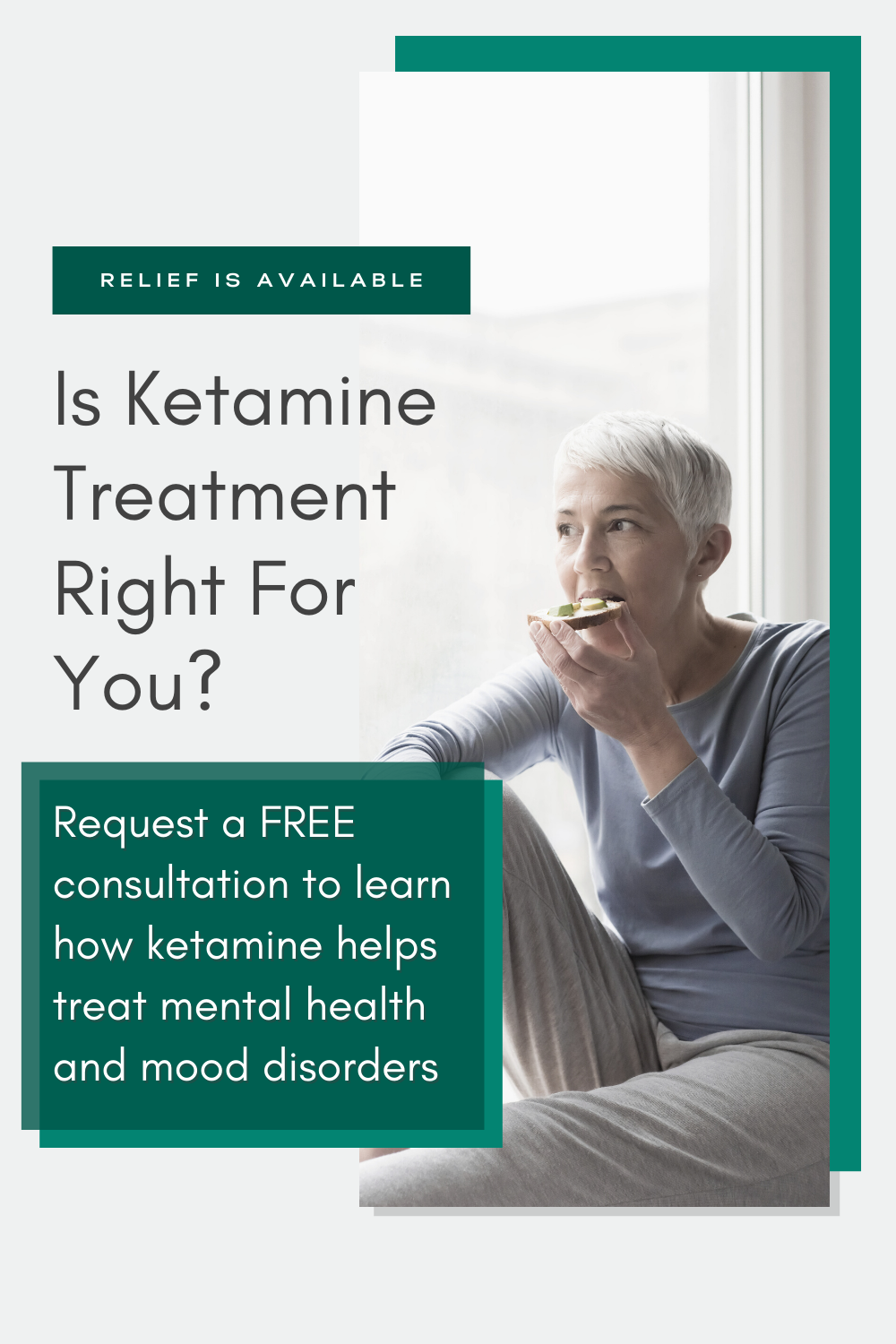 Real Patient Testimonials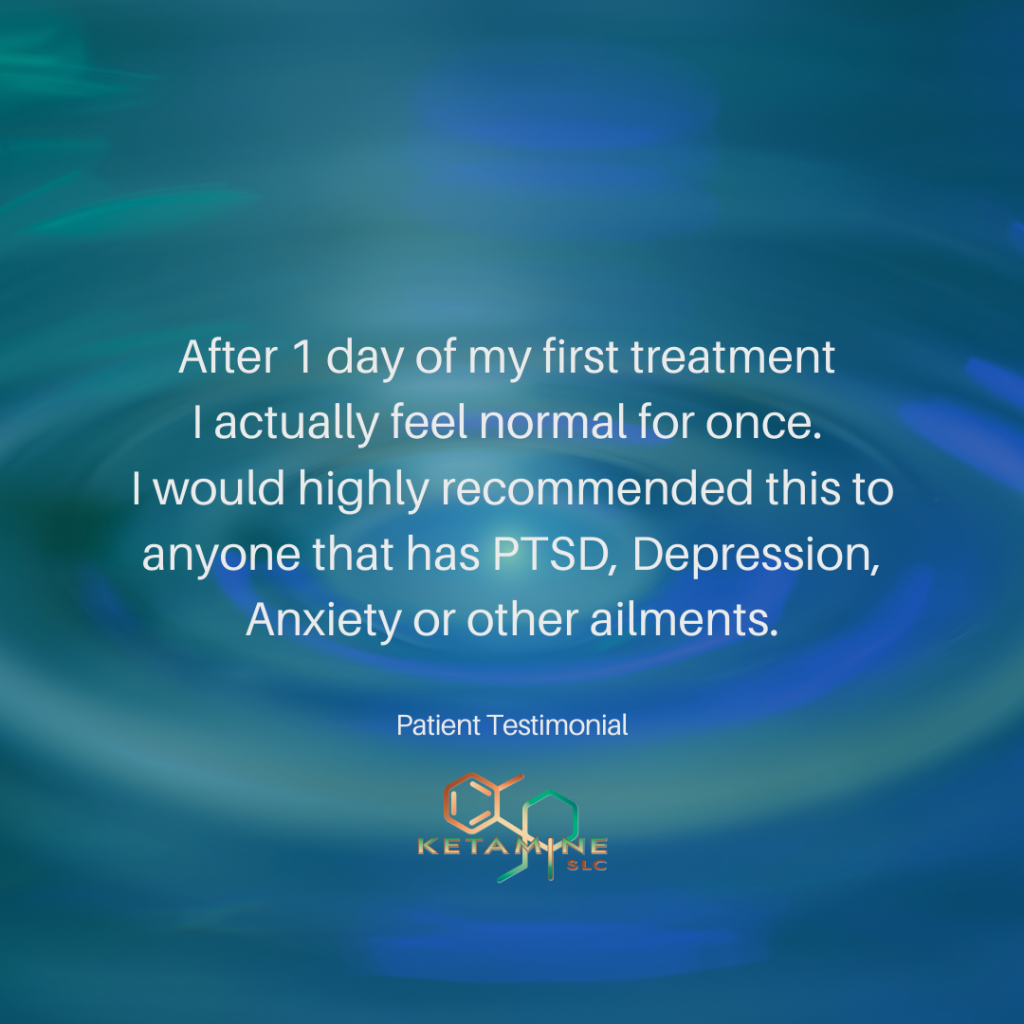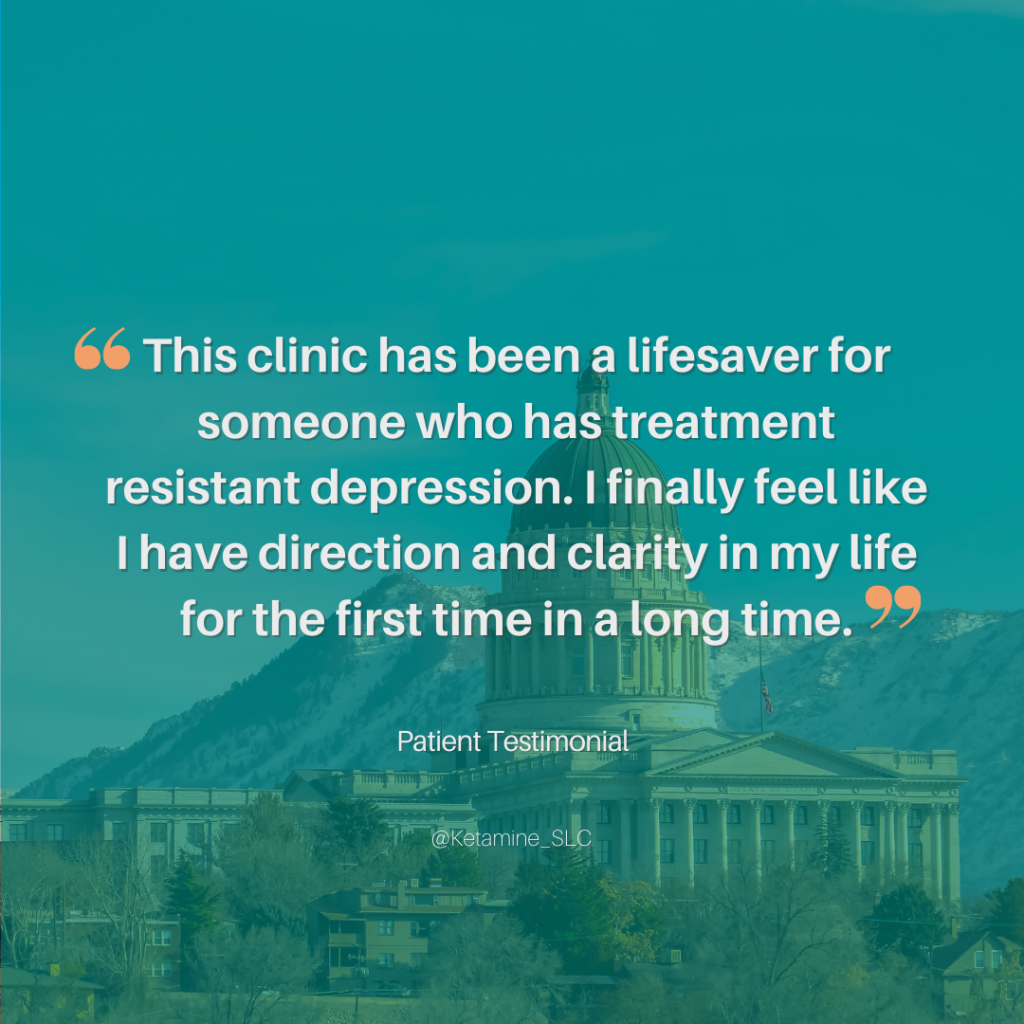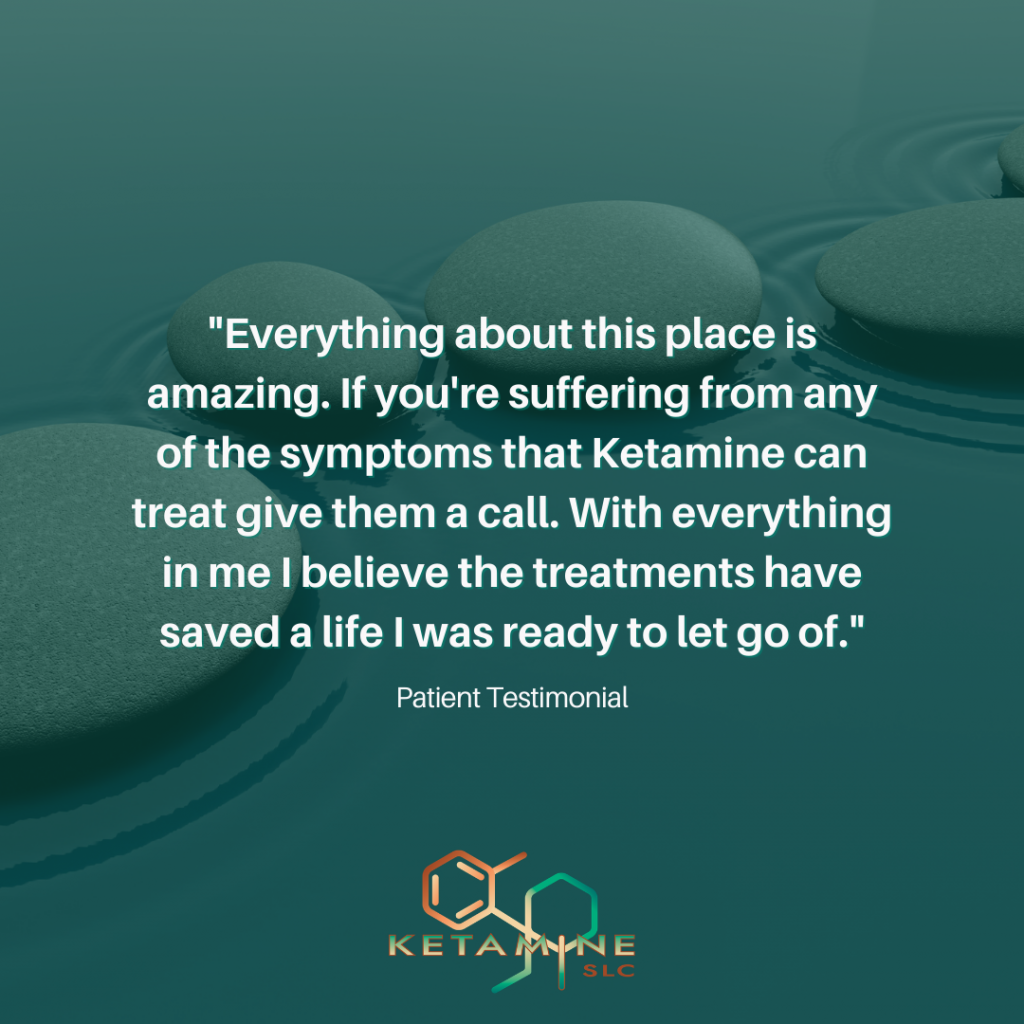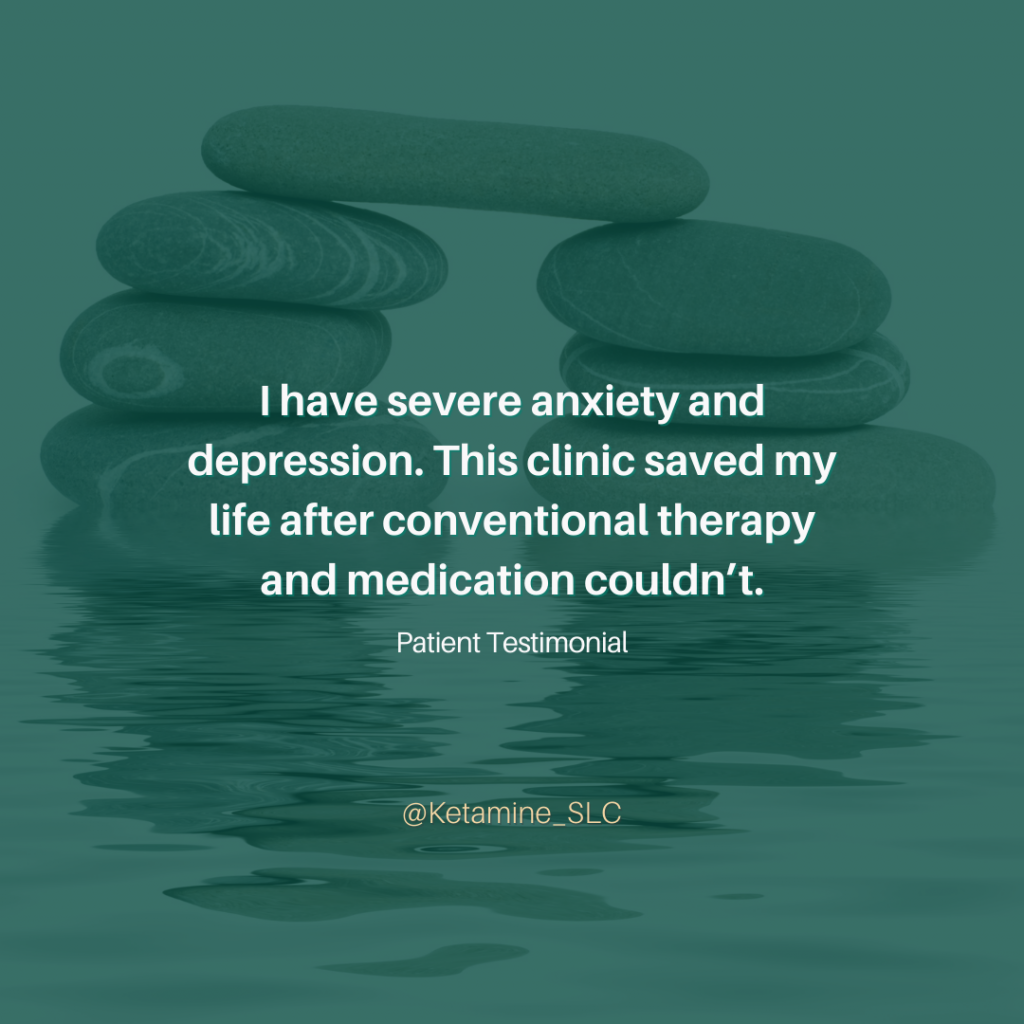 Is Ketamine For PTSD Right For You?
Are you suffering from a treatment-resistant condition?
Do your existing medications not work so well anymore?
Get all your questions answered and find out if
ketamine is the solution you've been looking for.
Ketamine SLC
5089 S 900 E, Suite 200
Salt Lake City, UT 84117
| | |
| --- | --- |
| Monday | 8:00 am – 5:30 pm |
| Tuesday | 8:00 am – 5:30 pm |
| Wednesday | 8:00 am – 5:30 pm |
| Thursday | 8:00 am – 5:30 pm |
| Friday | 8:00 am – 5:30 pm |
| Saturday | 8:00 am – 5:30 pm |
| Sunday | Closed |
Monday
Tuesday
Wednesday
Thursday
Friday
Saturday
Sunday
8:00 AM – 5:30 PM
8:00 AM – 5:30 PM
8:00 AM – 5:30 PM
8:00 AM – 5:30 PM
8:00 AM – 5:30 PM
8:00 AM – 5:30 PM
Closed