Best Anxiety Treatment In Salt Lake City
Over 40 million Americans live with anxiety that affects their quality of life. Ketamine SLC offers safe and carefully monitored ketamine therapy as an alternative or supplemental anxiety treatment option. Call Ketamine SLC or schedule a consultation to learn how ketamine can relieve your anxiety symptoms. 
Our clinic is paving the way in the treatment of anxiety for Utah residents. Our staff is fully committed to helping each of our patients find relief and live their best lives. Our ketamine therapy has shown incredible results when other treatments have failed. We would like to invite you to learn more about the benefits of this treatment and discover if this therapy is right for you.
How Does Ketamine Treat Anxiety?
Anxiety is a natural human emotion and one that is intended to preserve our safety. This is the "fight-or-flight" response that keeps us out of potentially harmful situations.
When anxiety reaches a level beyond the normal worry response it becomes an anxiety disorder. While other medications combat symptoms, ketamine therapy will treat the cause of anxiety disorders to help patients get relief from excessive stress.
The big difference with anxiety and depression is that anxiety has a huge involvement with the amygdala. This is the brains organ of anxiety and acute stress. It's final pathway is the lateral habenula and this is signaled by a burst mode. These transmitters include dopamine and serotonin. Only ketamine is known to reverse this burst mode and provide the dendritic repair that is essential for long term control.
More Information About Anxiety Treatment In Utah
Utah ranks last in the country when it comes to mental health, according to a report released in 2019 by the Kem C. Garden Policy Institute at the University of Utah.
"There's been a lot of press about Utah's suicide rate, but once you pull everything into one place, you can see just what a big problem the state of Utah has in terms of mental health," said Laura Summers, the institute researcher who wrote the report. "The severity of the problem is worse than I thought going into it."
Factoring in Utah adults' high rates of mental illness and low access to care, Utah in 2018 ranked No. 51 in a national analysis of mental health measures by the nonprofit Mental Health America, the report stated.
Frequently Asked Questions About Ketamine for Anxiety
More Frequently Asked Questions About Anxiety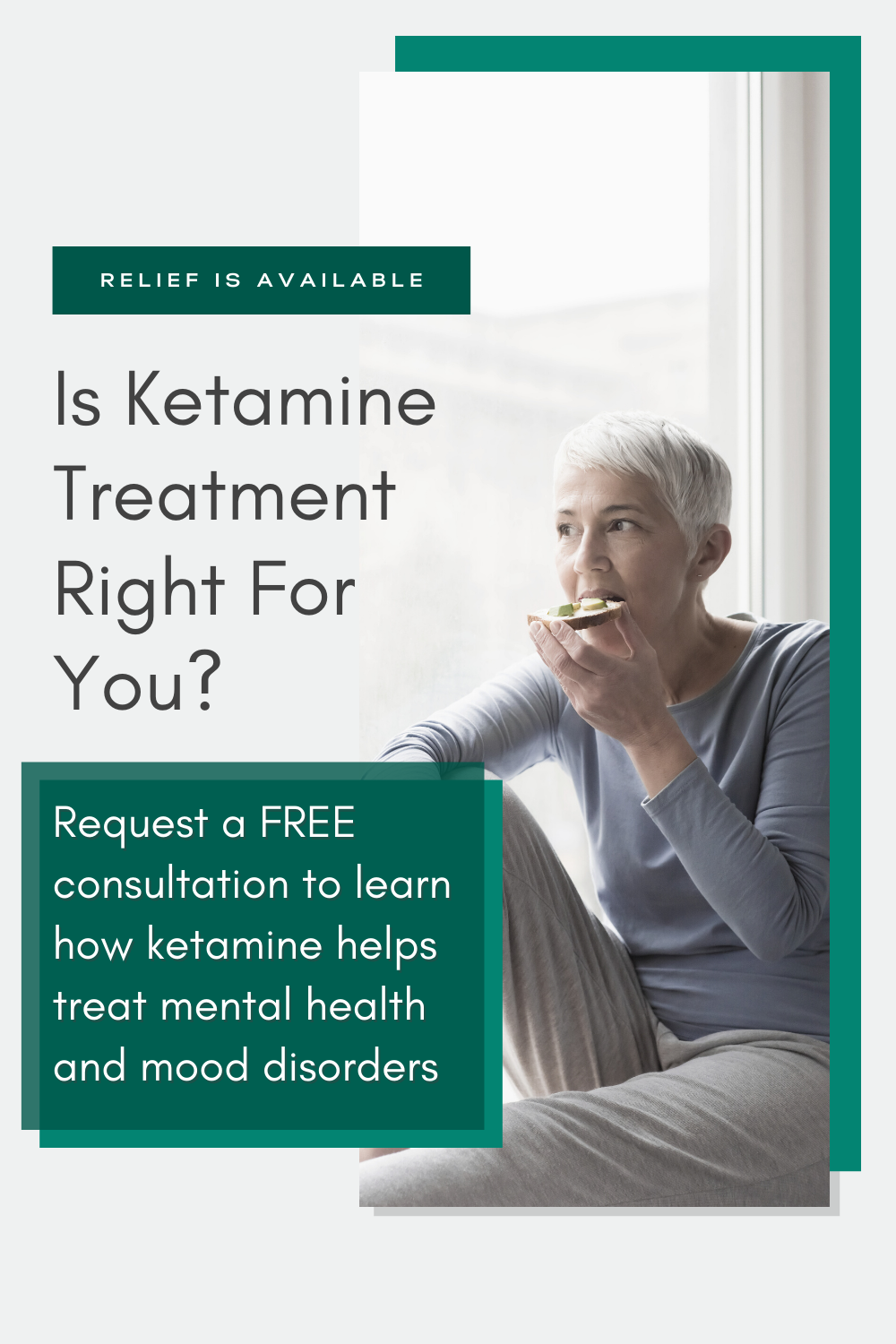 Real Patient Testimonials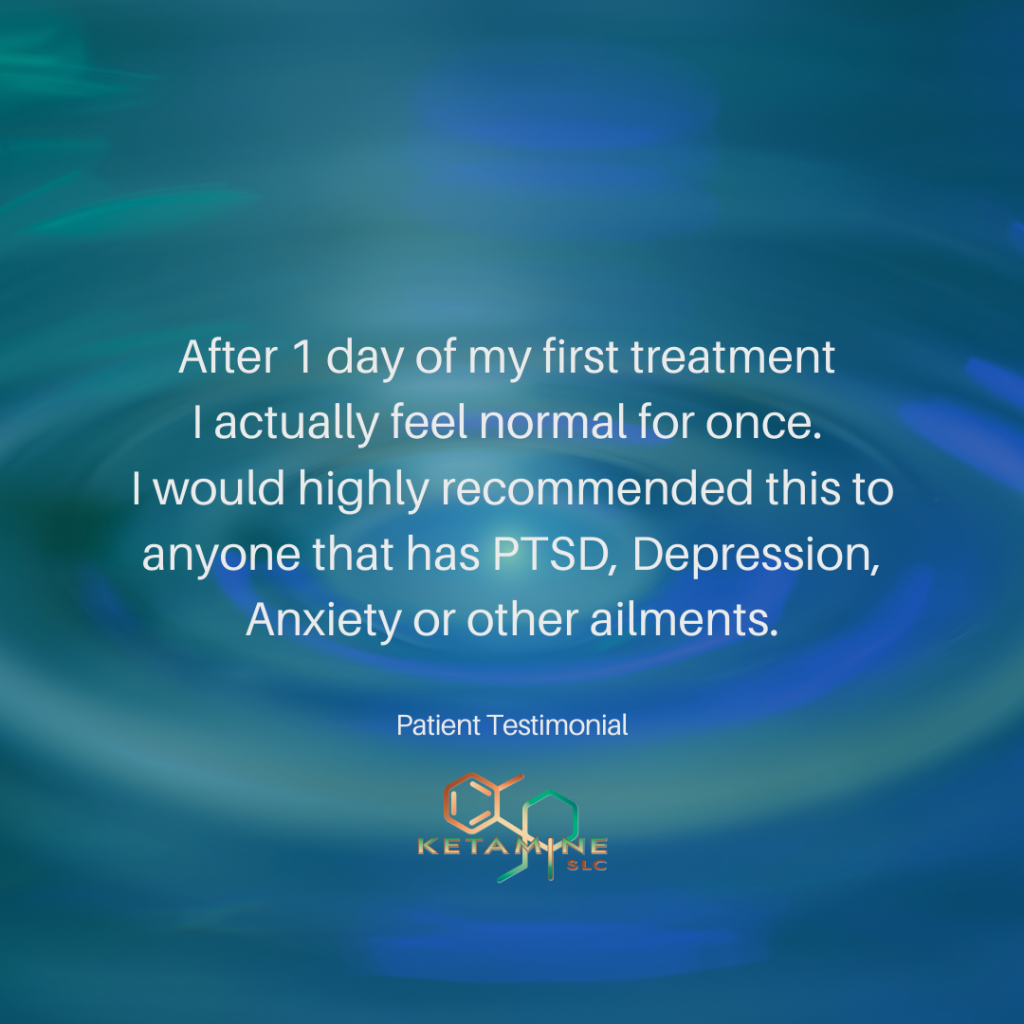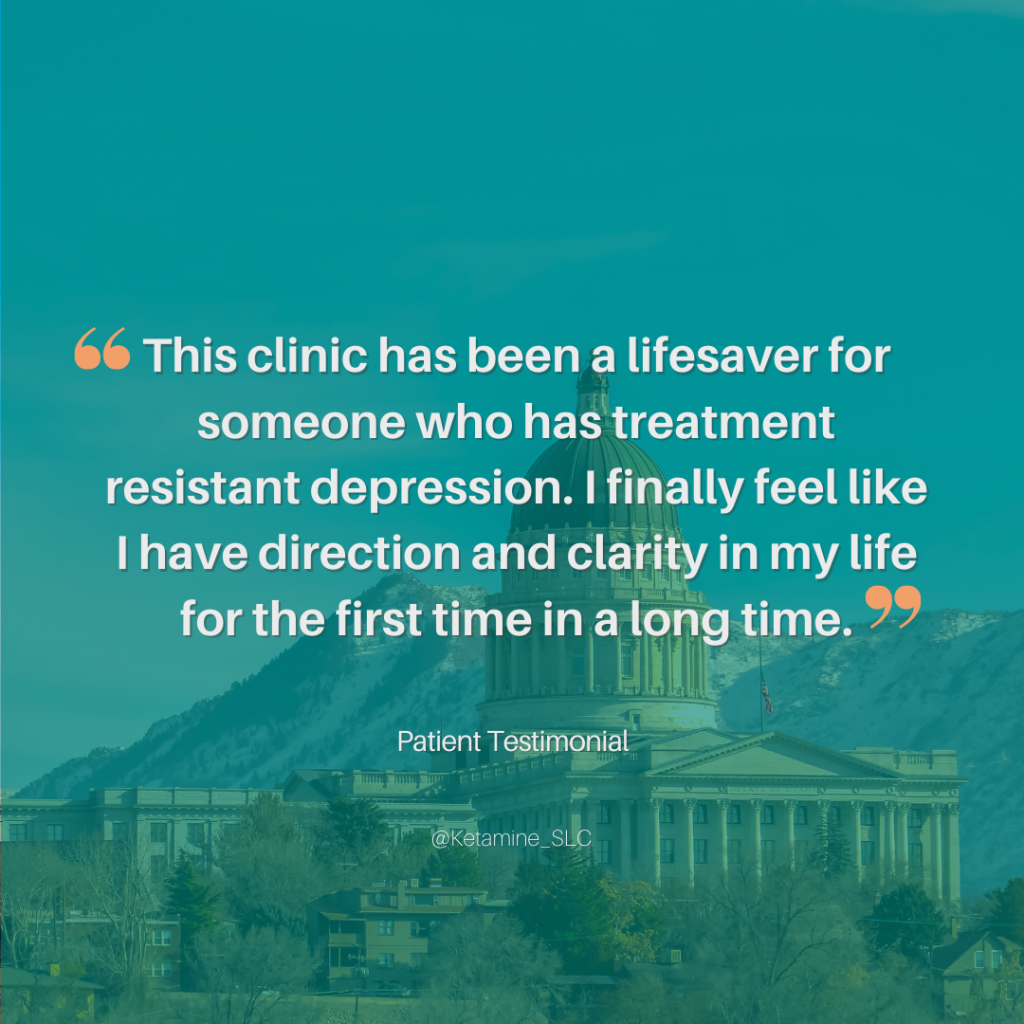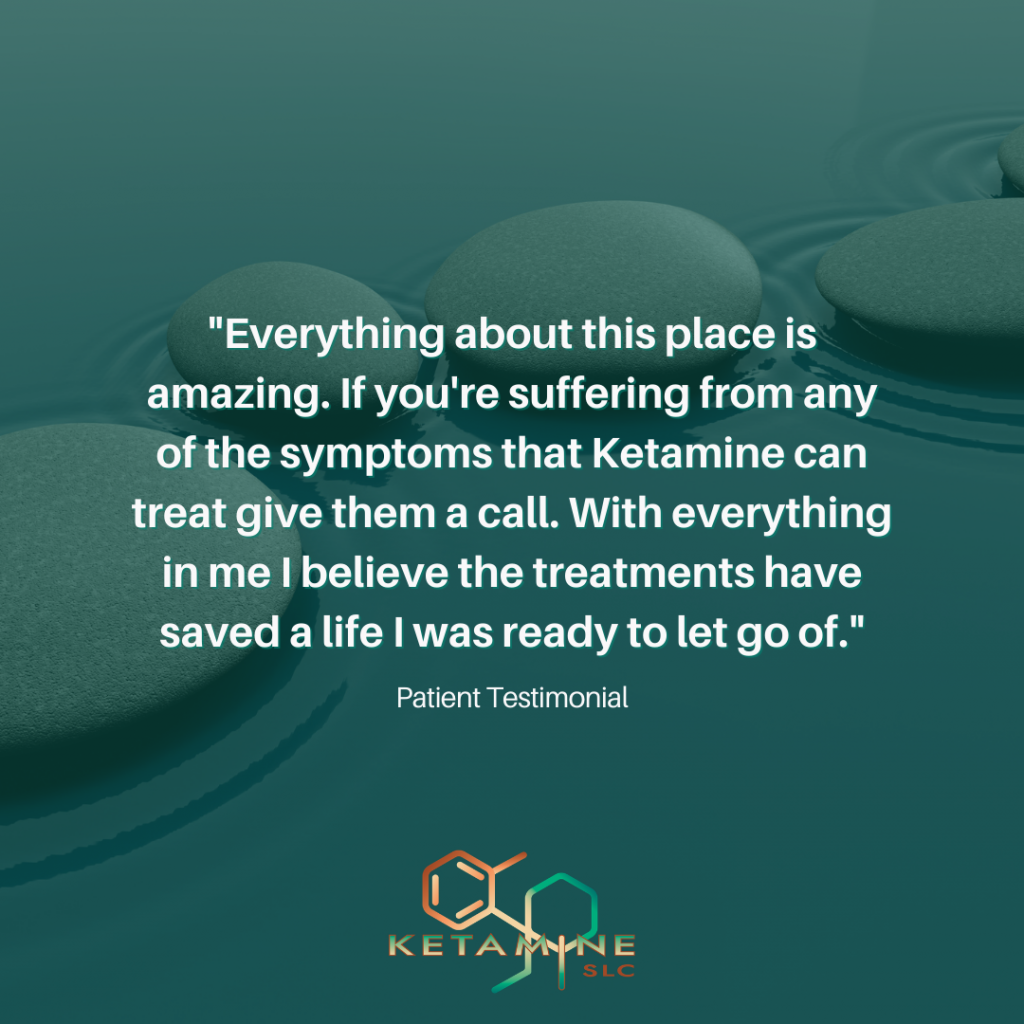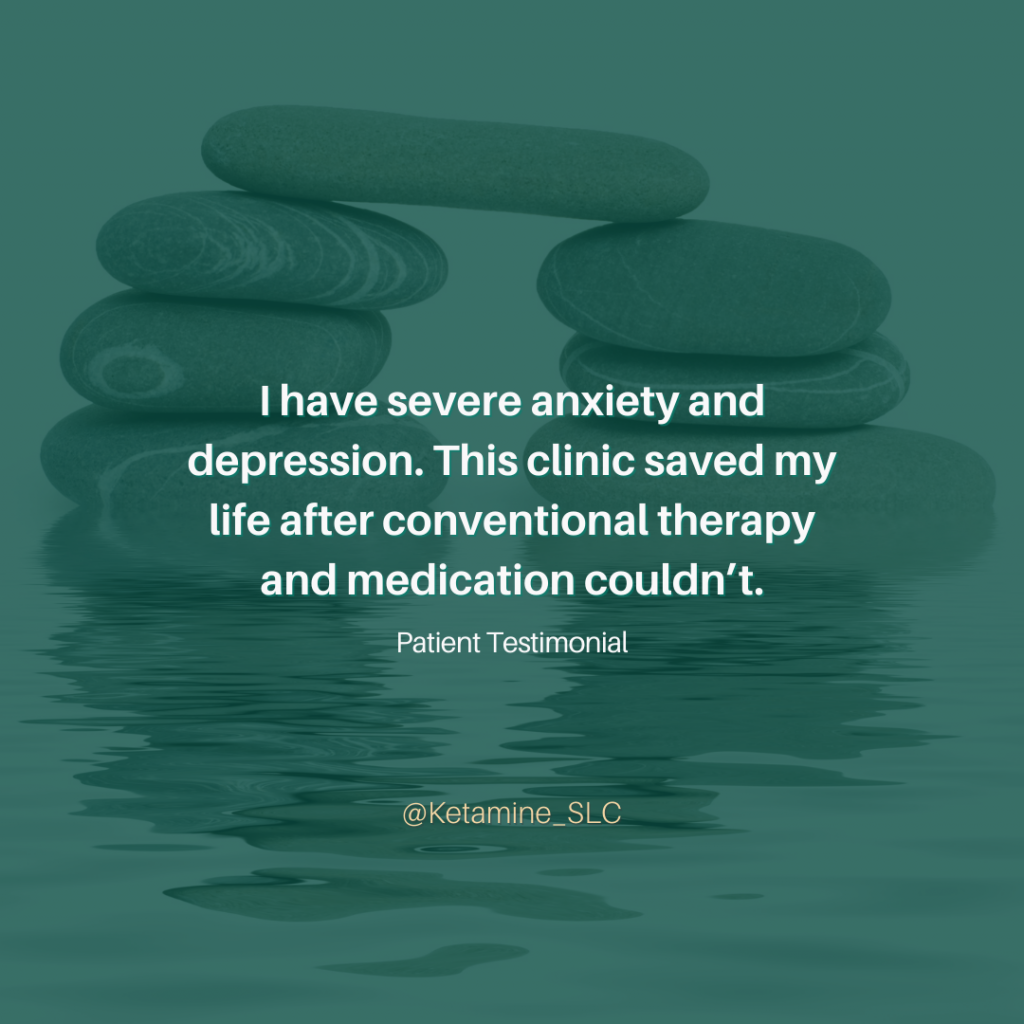 Is Ketamine For Anxiety Right For You?
Are you suffering from a treatment-resistant condition?
Do your existing medications not work so well anymore?
Get all your questions answered and find out if
ketamine is the solution you've been looking for.
Ketamine SLC
5089 S 900 E, Suite 200
Salt Lake City, UT 84117
| | |
| --- | --- |
| Monday | 8:00 am – 5:30 pm |
| Tuesday | 8:00 am – 5:30 pm |
| Wednesday | 8:00 am – 5:30 pm |
| Thursday | 8:00 am – 5:30 pm |
| Friday | 8:00 am – 5:30 pm |
| Saturday | 8:00 am – 5:30 pm |
| Sunday | Closed |
Monday
Tuesday
Wednesday
Thursday
Friday
Saturday
Sunday
8:00 AM – 5:30 PM
8:00 AM – 5:30 PM
8:00 AM – 5:30 PM
8:00 AM – 5:30 PM
8:00 AM – 5:30 PM
8:00 AM – 5:30 PM
Closed